Aloha, Welcome to Hanalei Day Spa
Please click the "schedule now" button on top of the page to view and schedule for available services.
A warm aloha to you from us at Hanalei Day Spa.
Click video below to have a look at our one of a kind location…
Please click the "schedule now" button on top of the page to view and schedule for available services.
Don't know what you want?
We offer couples and singles spa services, in-spa and beach-side. Consider  a 4-Hands massage, Deep tissue or Hawaiian style Lomi Lomi Massage you can add Hot stone massage or full body exfoliation with gloves that you take home. Combine several or stick with a basic light pressure massage. (Learn more by clicking the links above for short videos.)
We have been serving visitors and the community since 2003. I invite you to step into our boutique day spa, feel the sweet aloha of the island, and our welcoming staff. Experience the soothing hands of Kauai's BEST massage therapists, the delicious ocean breezes, and pristine clean air.

Darci Frankel L.M.T.
Wedding Officiant/Owner of Hanalei Day Spa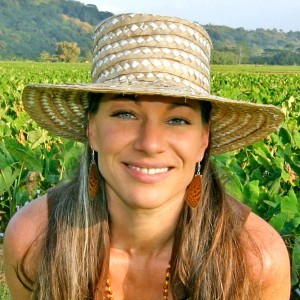 Relax with us…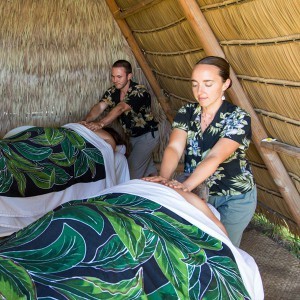 We start with our basic massage, a light touch/relaxing massage, then we custom tailor your experience from there to include accompaniments such as beach-side, deep tissue, and aromatherapy, to name a few of our most popular.
Our guests love receiving in spa and beach-side services, and Hawaiian style Lomi Lomi. Deep tissue and hot stone massage really works out the knots! As relaxation specialists, our job is to help you find the best services for your needs.
We have lots of services that make your honeymoon, anniversary or vacation relaxing, recharging and rejuvenating, which is one of the many reasons why couples love Hanalei Day Spa! Whether you would like to receive a 50, 80 or 110-minute service, we can make your experience great.
One popular couple's indulgence is The Royal Couple; it is a 110-minute beach-side Hawaiian Lomi Lomi massage using organic coconut oil, with a deep conditioning treatment for the hair and scalp using warm coconut oil. You can add on deep tissue massage to that as well for an additional charge.
Our couples come back year after year and find consistent excellent service…. We love couples, in fact, most of our guests are couples.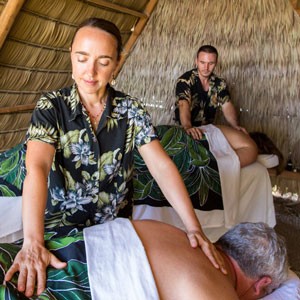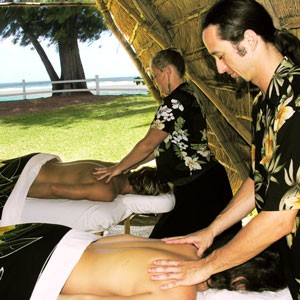 Our traditional thatched roof 'Lomi Hale' (Hawaiian for massage house) is the only authentic Lomi Hale on Kauai. Built just like the ancient Hawaiian houses, just off the sand so it remains unaffected by large surf.
Our guests enjoy beach-side massage in a private area of the resort. It is enclosed on 3 sides and open to the ocean side (makai). We protect your modesty at all times and the massage therapists will step out as you lay face down on the massage table.
We offer beach-side massage weather permitting. If it is blustery, cold or rainy we see guests in spa as the alternative. We can see up to 3 friends beach-side.
Here's what people say about us
"Spa owner, Darci Frankel, and her staff, know how to deliver expert skills paired with aloha."
"I wanted a massage out in nature and this place delivered. My husband and I got a couples Lomi Lomi massage on the beach. Cozy, private and a beautiful view. I could hear the ocean waves in the background and smell the scent of coconut."

Shirley C.
Laguna Niguel, CA
"We are so happy we drove by the Hanalei Day Spa and saw their sign. The outdoor Lomi Lomi massages were amazing, and made even more spectacular by hearing the ocean waves crashing just outside our hut. Our massage therapists knew their trade, and I would highly recommend this spa to anyone who visits Kauai."

Michelle K
New York, NY
Panoramic view of our beach side location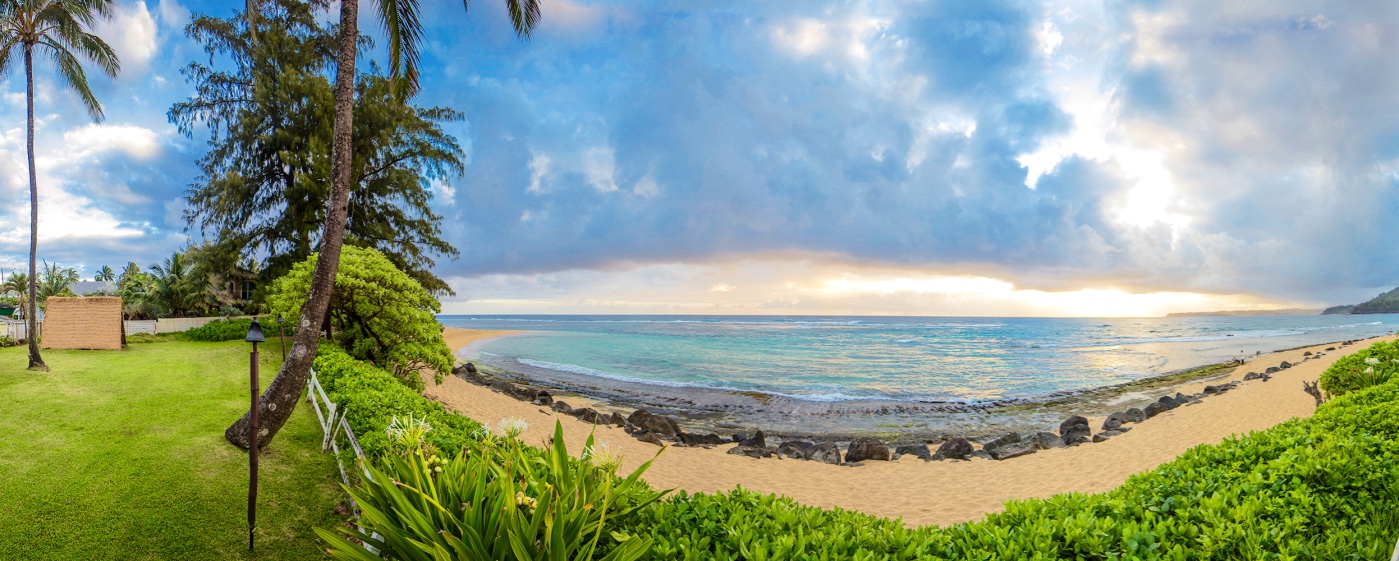 What makes visits with us so special? You'll enjoy:
Atmosphere
Located in paradise, where the ocean, heaven, and healing meet, on the beautiful property of the 5-acre beachfront Hanalei Colony Resort. This boutique day spa is a hidden treasure on the North Shore of Kauai. Nestled in between Haena Beach and the Bali Hai Mountains you'll find the Hanalei Day Spa. Add to the magic of your Kauai experience by joining us for a peaceful beachside massage in an authentic thatched Hale with warm ocean breezes relaxing you into tranquility.
Individualized Attention
You'll love visiting our unique location and cherish the individual attention and quality of service you'll receive when you are here. Our massage therapists take the time to focus on your individual needs. Choose from a wide variety of therapies to enhance your massage; indulge yourself with a beachside massage, deep tissue massage, Lomi Lomi massage or the addition of hot stones. Share your experience with a loved one, side by side in our couples room or beachside Hale where the sound of the waves will soothe your soul.

Experienced Professionals
At our boutique day spa, you will be welcomed by experienced, trained, professional massage therapists and friendly receptionists who have a strong commitment to excellent customer service. Each member of our Ohana is hand-picked for their skill, experience and communication skills. Let our caring and skilled professionals guide you every step of the way, allowing you to relax, recharge and rejuvenate. Radiant health awaits you at the Hanalei Day Spa.

Thank you for your understanding and patience during this process. Please note, we have no staff on site. We look forward to welcoming you to our special paradise as soon as possible!
Click here to receive updates!
– Mahalo, Hanalei Day Spa