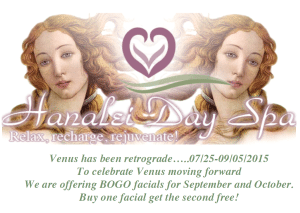 Venus has been retrograde, during venus retrograde the 'Venus energy' is not expressed outwardly, in fact, oftentimes there are can be the potential for relationship and or interpersonal challenges during this retrograde cycle.
The best approach is to internalize and ruminate on whatever lessons are brought to us during this cycle. To celebrate the true venus energy, is to revel in beauty in all it's forms; our (and other's) beauty, the beauty of nature, a child, experience pleasure and all the lovely delights the senses have to offer. To deeply enjoy the fragrant flowers, the delicious smell of the air, tastes of food, to enjoy touch and create and see beauty in everything. Hanalei Day Spa is a Venus place.
Venus retrograde affects us all in different ways, based on where it is in our chart. We might have been 'working on' our appearance during this recent cycle or the appearance of our home, some sort of internalized Venus energy.
On September 6th (actually around 10:30 pm September 5th HST) Venus will begin to move forward
I want to support you in celebrating your own beauty by offering this HUGE DISCOUNT on facials!
We fill up quick, Call ASAP to schedule!
(808)826-6621
(ME 1929 MAT 7114 BSH 5302)