Bone Broth, the superfood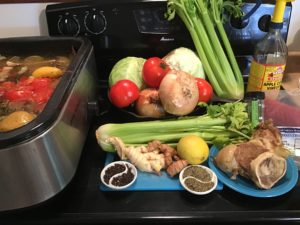 Bone broth is a nutritional supplement, a superfood packed with potent nutrition!
The way that I make bone broth is quite unique.
I have a long background in Ayurvedic Medicine. In Ayurveda, we prepare herbalized oils, potent medicinal teas, and other medicine. For instance, one way we do this, is to cook cups of herbs in gallons of water for 3 days, strain, then add oil and cook the oil out. This infuses the oil with the potent tea. In this way (and many ways), my Ayurveda background has informed my broth preparation.
Similarly, bone broth also has a rich history in traditional Chinese medicine. It is highly regarded as a helps support the digestive system, is a great tonic, builds the blood, supports the kidneys, offers incredible minerals, which most of us are depleted with,  supports the gut, Bone broth improves skin, bone and joint health and is anti-inflammatory. It can single-highhandedly help someone heal from the leaky gut syndrome.
Above all, these are some of the reasons I love Bone broth.
We drink it in our family and recommend it to the those who need it when they come to me for Ayurveda Consultation.
INGREDIENTS:
3.5-4 gallons of water (depending on the size of your crockpot)
Bones; turkey, chicken, beef or bison
Whole Black peppercorns, fenugreek, ginger, thyme, fresh Rosemary
Apple Cider Vinegar which pulls the minerals out of the bones into the broth.
2 LG Onions, 2 Lg. tomatoes, celery, and 1 lemon
Lemongrass, fenugreek, galangal are a nice addition, especially during cold and flu season.
HOW TO MAKE:
add bones, water, veggies, and herbs, cook on low for 24-48 hours
WHO BENEFITS FROM BONE BROTH:
Athletes, New mothers, anyone who is sick; convalescing, weak, elderly, anyone needing more strength.
OVERVIEW;
Cook for 3 days, daily add veg if you'd like, add more water.
After that, let it cool.
Then strain it and throw bones away. (you can puree vegetables and use as a base of a soup)
Pour bone broth into containers, however make sure to leave ½ inch when freezing PACKAGING IT
More information, you might enjoy:
Exquisite Self-Care, according to Ayurvedic Medicine, and Darci Frankel
Exquisite Self-Care, according to Ayurvedic Medicine, and Darci Frankel