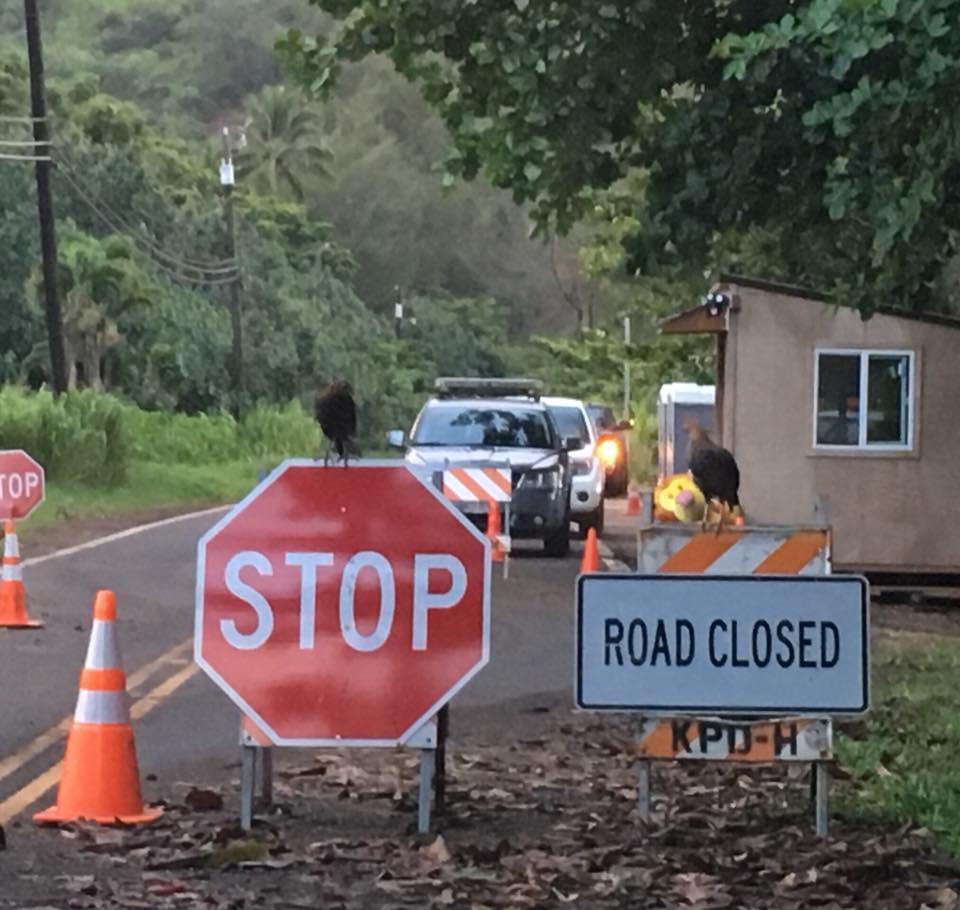 I've lived on Kauai for 20 years. When I tell people where I live, they get this look of wonder. Kauai conjures up all manner of visuals of relaxing on turquoise exotic beaches, delicious foods, amazing farmer's markets, and deep relaxation. For balance, I need to add that we have the occasional tsunami, flood, hurricane and centipedes, oh and high cost of living. There is both light/good news AND shadow/bad news in paradise.

I guess all well-adjusted adults have developed some resilience, tolerance, and acceptance, and we realize that not everything is always smooth, pretty or goes our way. As you may know, our community has endured a tragic flood, fortunately, there were no fatalities, and we are very resilient!

It has been a long loooooong haul for us who have been living on the very North shore of Kauai. Since the flood of April 2018, during the repairs, we have had to adhere to a strict schedule for our comings and goings.
Imagine for a moment that you could only leave and arrive home at certain times.
And if you were late, you missed the convoy and had to wait for the next one, maybe up to 6 hours. Imagine how you might feel if you couldn't just get up and go see a friend, get supplies, medical help or groceries. After not being able to use the road for a month mid-April 2018, our little Haena and Wainiha community had to adhere to a set convoy schedule.

I'm sure you might have had a tinge of claustrophobia too, the day you saw locks on the gates that they closed at night at the Haena and Hanalei sides.

The Department of Transportation DOT has done a great job at the repairs, and we received a lot of support. We always had the reassurance from emergency vehicles parked on this side in case of an emergency. And medivac has available and emergency vehicles do have the key to get in.

"Look honey, we live in a gated community now!"
We got the convoy blues…
During the convoy, all folks who wanted to leave/or enter would go through the same procedure. People would fist get in line, then at the selected times, there would be a pilot truck leading us through the construction areas and another pilot truck who follows the line. Only bonafide residents have been allowed in and out of the area. With a $5,000 fine for those who violated this rule. A placard on our vehicle shows that we have jumped through the required hoops to show our residence here. Required hoops being; proof of residence, utility bill, lease agreement, car registration, etc.
Hanalei Side approaching check point

Hanalei Side Checkpoint

The convoy near Lumahai

Another day in the convoy

DOT hard at work!

Look at that slope work!

On my way out today Haena side…

Families of pigs have been enjoying the road too. Momma pig was scratching her booty on the guard rail and looking me in the eye. I think she was saying "ey open da spa, so I can come get a Lomi with you!"
Just for a moment, imagine your life within this context. Let's say you have to get your child from school at 3 pm, so you leave on the 1:45 convoy, then you have to wait until 5:30 to get back in line to get home… Or, you need to pick up mail, but the Post Office doesn't open till 10 and then it closes at 4.

Sundays we have had more freedom to come and go hourly. Our convoy life is coming to an end soon.
Yup, THIS has been OUR life.
Yup, THIS has been OUR life. AND we are also so very grateful that we get to live in such a beautiful area. A beautiful, exotic and vulnerable area.
Take a look at our convoy schedule here.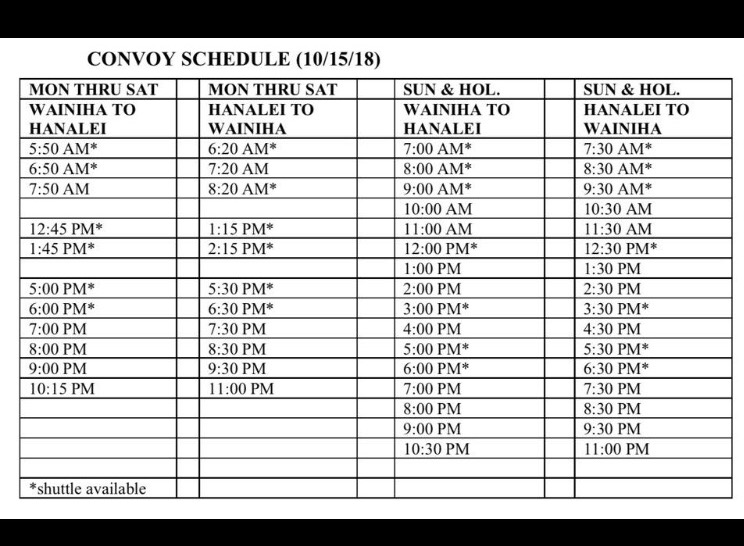 I am super grateful for all the hard, and dangerous work that the DOT is doing! In my visual video news update, see a clip of the convoy first hand.
Video clip of me driving the convoy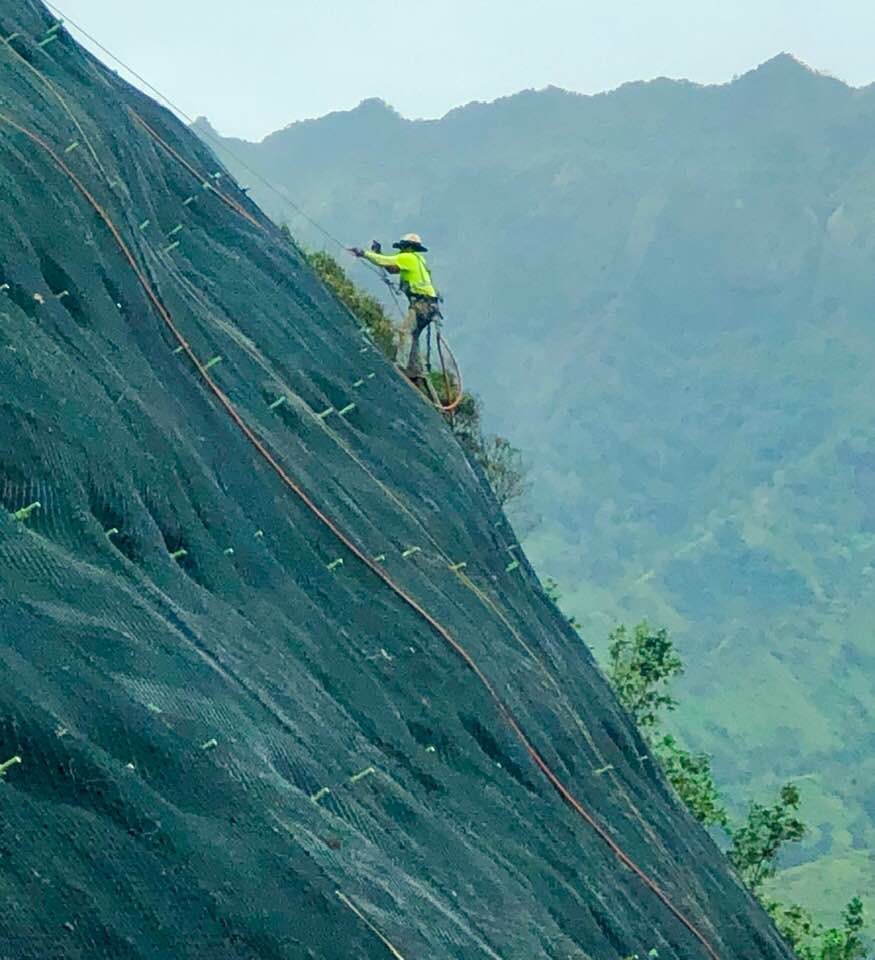 What's the good news?!

Unless the DOT has weather interruptions the road is scheduled to open May 1st. We thank the Department of Transportation for their attention to the needed repairs and we look forward to seeing you all soon.

The road will open, however, for the month of May, there will be significant delays due to continued road construction and bridge work. Please know you might experience delays of 45 minutes or more if you plan to come to the very north shore.

Some more bad news, sorry…
Napali trail is still closed to hikers.
There are no public restrooms past Hanalei.
Haena State park (Ke'e) including Kalalau trail, Hanalapi'ai Beach and Falls, and access to Ke'e Beach is CLOSED. There is NO PARKING
Haena County Beach Park, including access to Tunnel's is CLOSED. There is NO PARKING.
Limahuli Gardens is CLOSED. There is NO PARKING
Parking on the side of Kuhio Highway in Haena is PROHIBITED. Parking fines are $200 for the first offense.
All public parks and facilities in Haena are CLOSED. There is NO PARKING
Black Pot Beach parking not allowed either. (By the pier in Hanalei.)
The state is asking if you do not have a residential permit or placard, please do NOT drive north of Hanalei.
Meanwhile, Princeville, Hanalei, and Kilauea are open for business. Please enjoy these towns until Haena and Wainiha have recovered and are ready to welcome visitors late in the summer.
Effective May 1-31. This Advisory will be updated in June.
As a result, there will still be a checkpoint just past Hanalei town.

To see more information on the Master plan for Ke'e click here.
FAQ'S
When will Hanalei Day Spa Open? Since there has been so much uncertainty around when the road will open, due to weather, etc. I will wait until the road is ACTUALLY open. Then do my repairs, and then Hanalei Day Spa will reopen. I will most likely be the summer. However, I do not have a date at this time. I will let you know! Make sure you are signed up for my Newsletter. Sign up here.
A question I get a lot is "did the FED help you financially?" the answer is no
Will you honor gift certificates? Yes, of course, when we open.
When will the Hanalei Colony Resort Open? In addition to storm repairs, HCR had a small fire last summer due to the flood damage. These repairs need to be permitted (which takes time) and then the damaged structures will be rebuilt. The maintenance, housekeeping and pool areas need to be rebuilt. Necessary repairs may take until Jan 2020, I do not know.
When will I be able to go to Ke'e/the end of the road? Ke'e may re-open July 1st, but don't hold me to that.
What is this I hear about a shuttle? A shuttle seems a solution to some pressing problems. Our natural resources, the health of the reef and the ecosystem, some people are concerned about "over tourism" To help reduce the impact of so many cars in our small neighborhood, the HanaleiInitives.org formed a non-profit group which will run shuttles every 20-30 minutes from Princeville to the end of the road.