I love that you can now schedule your spa services online at any time of the day or night!
A few years ago, I considered online scheduling and did a lot of research, I mean A LOT!
I spent hours looking into what they offer, their limitations, costs, all the details, it was a huge learning curve because I didn't know what I would need. I dropped it because I wasn't convinced that it would be a good fit, and at the time we had a lot of internet interruptions.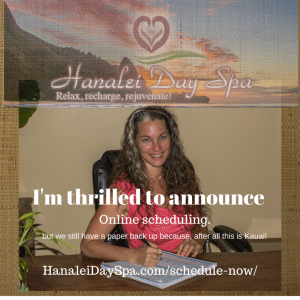 Fast forward to 2016, I started doing research again, with a solid consistent internet connection! This time I called the top 6 companies and asked them basically 2 questions; do you schedule for couples and can your system accommodate add-ons (like our beachside, deep tissue, etc.)? Most of them had this complicated 'work around' as they call it. But Booker didn't. For a while there, I considered going into a lucrative and well needed online scheduling business!
After months of research, (and a learning curve)
I am thrilled to announce, we have added ONLINE SCHEDULING.
You can now schedule anytime day or night!
Remember to schedule your services in advance we fill up fast!
If you would still like a human, just call us!