Happy Anniversary to us!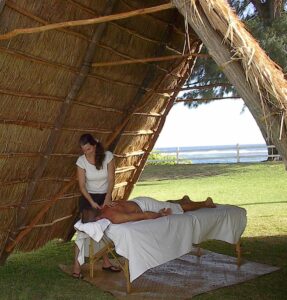 Established in 2003, our job at Hanalei Day Spa is to help folks feel EVEN better, and we've been at it for two decades. Well almost, were at 19 years today! Happy anniversary to us!
A little Hanalei Day Spa Her-story:
I moved to Kauai after running a yoga studio and full time cleansing programs in Scottsdale, I just wanted to relax and not work … Little did I know that Hanalei Day Spa would fall in my lap.
At the time, a close friend suggested that "I should open up a day spa at the Hanalei Colony Resort". Since I just loooove to sink my teeth into a good challenge, I said "OK, and he introduced me to the resort manager." He did, and she said that she had always wanted a spa at the resort, "Spa services would be a perfect amenity to complete our Hanalei Colony Resort." So, Tommy Taylor built the first version of the Lomi Hale, it was beautiful! (Image above) And we started doing massage therapy in the Hale even before we took occupancy of the building. Our guests love our secluded beach side massage!
I decided that Hanalei Day Spa would be a green business.
As much as humanely possible, I take every effort and expense to avoid polluting the planet, our air our bodies and our building/environment. We use green/biodegradable products wherever we can, and we recycle. From the organic massage oil we use, to the detergents WITHOUT harsh chemicals, ZERO scents/ pollutants, to the recycled cups, our cleaning sprays and equipment – all non-toxic.
Only the best for you
I have a colleague who has managed 15 spas in the Hawaiian islands. I invited her to consult with me to see if I could up-level in any way. One of her suggestions was to "use less expensive massage oil. This organic coconut oil is way too expensive!" I say NO WAY. We eat what we put on our skin and I want our massage therapists and guests to have only the best. Sorry-not-sorry
We also started doing yoga classes in what is now Opakapaka restaurant years before it was even the Mediterranean Gourmet.
It was the BEST ocean front yoga studio! And I met my husband Doug right out front years before we would even date…but that is another story entirely.
Auntie Charlotte filled our schedule for two weeks!
As soon as we opened the doors we were busy. A lovely lady from Texas, Charlotte Hesse brought in a group of her executives here and they filled our schedule for two weeks. In those first few months, we all worked the front desk, taking turns checking folks in and out. We quickly learned that we oughta keep the doors open so we brought in a receptionist and taught her what we learned.I think it may have been Melinda…
Erin Clark, Jannan Derso, Jeff, Thomas Kelleher, Kristen, Andrew, Sarah Boyer, Miliki, Keith Sorlie, Sorry if I am forgetting a few, we had a great crew! And we evolved. We started of with a simple menu of services, and adjusted as we learned what folks actually wanted. It was a fun time of growth and expansion.
In those days, I would do a lot of massage therapy, pancha karma cleansing and rejuvenation programs, be the manager, cleaner, scheduling maven, and teach yoga classes. It was a lot, then I realized I was doing too much, so I cut back on doing some massage.  Sorry to those I disappointing by not personally providing you with massage. But I quickly learned that I needed to have that boundary for the big picture, so I can run the spa.
A handful of years ago, I decided to implement online booking system which really helps, but we still keep the paper appointment book, because after all, it IS Haena.
I remember the man who installed our phone system, his wife was my massage client, then his son worked at the resort. it certainly is a small island.
You may remember the paper intake form we had, well in 2016 we went digital, no more paper waste. Hopefully, doing our part to create less paper waste for mother earth.
In the nineteen years we have been open,  we have helped tens of thousands of people to feel better. I feel good about helping as many people as we did over these last 19 years.

So many great people, the two restaurants, a myriad of resort workers, etc. Benny, the landscaper who worked there for 20+ years.  Cissy was so helpful, the awesome receptionist at HCR, may she rest in peace, I remember she gave me resumes when I was looking for a receptionist and give me pointers on hiring. Thank you Cissy, love you!
We Prevail
We survived a flood (April 15, 2018), a plague and a two fires on the property. We were closed for the greater part of three years and made a come back. It was due to the grace of the Hanalei Colony Resort, and of course, the Powers That BE.
So, I owe my deep gratitude to all those powers. Thank you to the small Colony of business here, the many staff members who have come and gone, all on the far reaches of the earth now. Thai Land, Bali, Australia, Israel, Costa Rica, the continental US. So many amazing beings that I got to learn from and contributed to Hanalei Day Spa being the "institution" it is today.
Our dear friend/neighbor Teresa Tico, environmental attorney, came by a few months ago, She said "Darci, you are an institution." A woman owned business and you made it for so long (two decades) here in Haena, good for you."
It is because of so may people that we have sustained the course, still here and continue to serve, at Hanalei Day Spa. Thank you, especially to my husband, who will fix things even into the wee hours, because they need to be fixed. I and Hanalei Day Spa love you! Thank you to my sweet step daughter Chelsea for being the perfect receptionist right now. And, of course, my "chop wood, carry water" attitude. Thank you for our sweet land lady Charo. May you all be happy, healthy and prosperous for decades to come!
We are grateful for all our guests, past, present and future.
Thank you for being part of our experience.
May we have the grace and ability to serve for many years to come.
With warm aloha,
Darci Frankel
Established in 2003. We started with offering massage therapy in resort units & yoga classes, then we built our authentic Hawaiian thatched roof structure 'Hale'/traditional Hawaiian house, and began to offer beachside massage. Our guests love our secluded beach side massage! We use green/biodegradable products wherever we can, and we recycle.