I just checked and right now Flights to Kauai from SFO are as low as $298
You can probably find some that are even less expensive. It seems as though the airlines are sanitizing and disinfecting and doing everything required to provide a safe environment, but always do your due dilligence.
Before traveling, you probably want to double and triple check  that you are up to date with the latest policies and procedures outlined in the State of Hawaii's Pre-Travel Testing Program, because it seems as though they change frequently.
Currently there is a 10 day quarantine after arrival, but the rules have been evolving as more information comes to light.
Hanalei Colony Resort has been temporarily closed but the Opakapaka Restaurant is open and serving delicious food!
Here at Hanalei Day Spa, both guests and employees are required to wear face masks for everyone's safety.
We hope to see you again soon!
Here is a link to the ever changing rules of travel to Kauai
https://www.hawaii-guide.com/hawaii-travel-requirements
---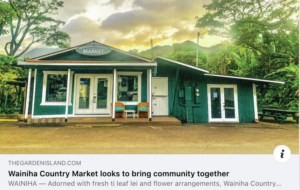 Congratulations to Joelle & Jim for opening up Wainiha Country Market!
"I am really excited. I have been waiting for months for this to happen," said Denise Hamyoung, a lifelong North Shore resident.
"The thing I am really excited about the most is that if I need something, like an onion or a potato, I can come down and get them. I was amazed when I saw cauliflower rice in here. She's going to carry some items that everyone is going to need, and now we don't have to go to Hanalei to get it."