Take some time during your vacation to cleanse and rejuvenate.
We all have busy lives these days, juggling our family, children and our job, sometimes we neglect our self.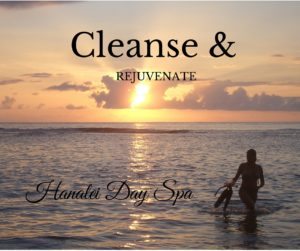 There is so much we can accomplish when we turn our attention inward.  Many of us are not taught self care, so we neglect our body, we neglect our emotional selves. It is important to take time periodically catch up with our inner lives.  Take advantage of this new package as a step toward your own self care. Perhaps carve out some time for a beach walk or journaling either before or after.
Announcing our Cleanse & Rejuvenate package!
Receive a 50 minute Lomi Lomi massage, I am Glowing body polish full body exfoliation, and a Body Wrap with a deep conditioning treatment for the hair & scalp. 135 minutes of bliss.
For one $285